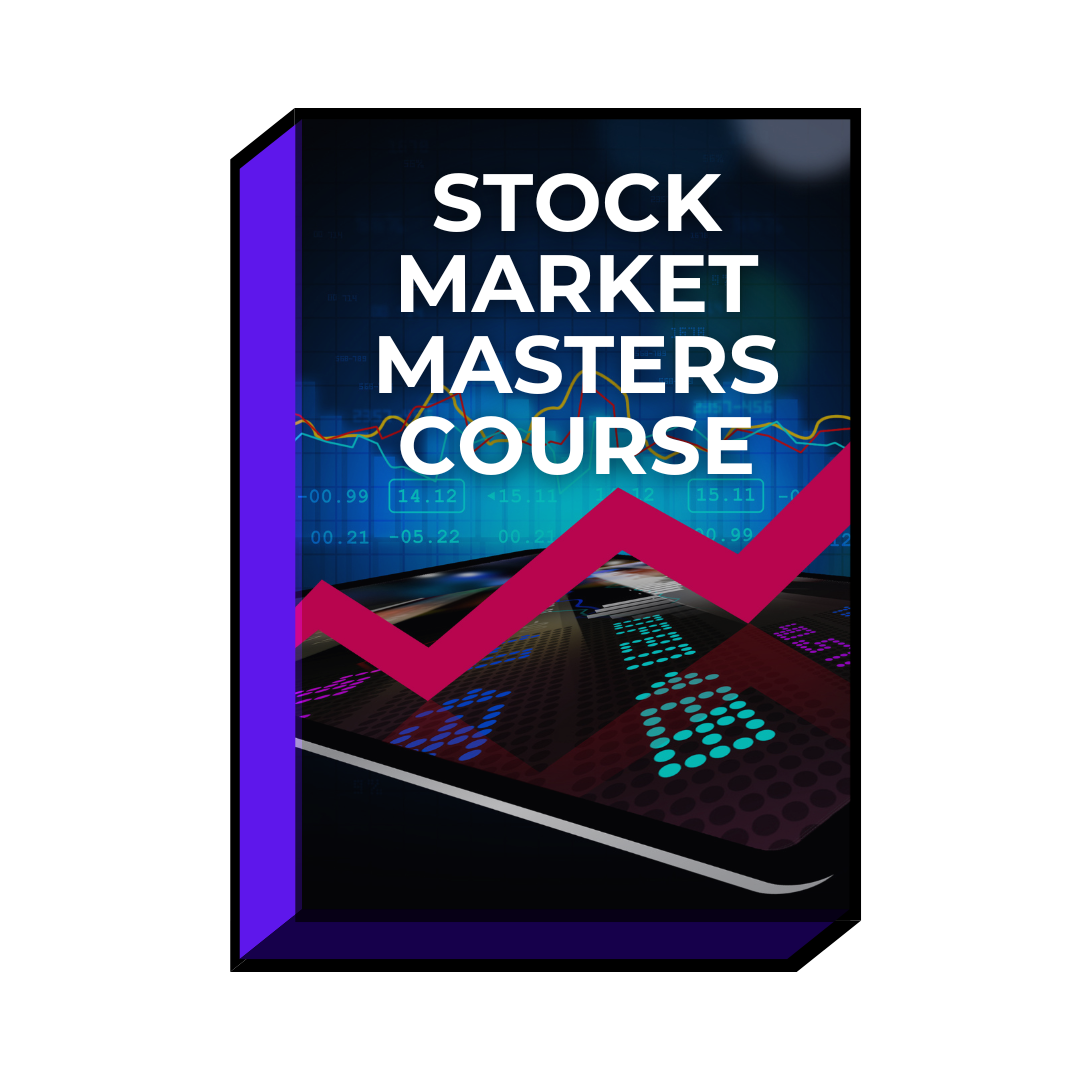 Stock Market Masters Course
Course Curriculum
1

Purpose of the Stock Market

Why You Should Get Invested

2

How the Stock Market Works

High Frequency Trading Algorithms

3

Applications and Resources

Trading Applications (Bonus for Canadians)

4

Accounts & Tax Basics (Bonus for Canadians)

Accounts & Tax Basics Introduction

Self-Directed RRSP Account

6

Popular Phrases and Terms

Buy the Rumour, Sell the News

Sell the Rumour, Buy the News

Bulls Make Money, Bears Make Money, Pigs Get Slaughtered

Markets Can Stay Irrational Longer than You Can Stay Solvent

The Fed Printer Goes Brrr

Don't Try To Catch A Falling Knife

Buy the Dip, Sell the Rip

7

Index Funds (Bonus for Canadians)

Fixed Income ETF's (Bonus for Canadians)

Leveraged and Inverse ETF's (Bonus for Canadians)

Thematic ETF's (Bonus for Canadians)

Asset Allocation ETF's (Bonus for Canadians)

8

Other Types of Securities

Hedge Funds Impact on Markets

9

Dividend Reinvestment Plan (DRIP)

Dividend Stocks on the TSX (Bonus for Canadians)

10

What are Options and How Do they Work?

Benefits of Trading Options

11

Short Selling Introduction

Risks of Short Selling Stocks

12

Financial Reports Introduction

Understanding Balance Sheets

Understanding Quarterly Reports

13

What is Market Capitilization?

What are Listed and Fully Diluted Shares?

14

Factors that Impact Stock Prices

Factors that Impact Stock Prices Introduction

15

Stock Bubbles Introduction

How to Identify a Stock Bubble

How to Make Money on a Bubble

Typical Stock Bubble Formation

16

Creating and Following a Trading Plan

Identifying Potential Risk vs. Potential Reward

Using Margin or Credit to Trade or Invest

17

18

Pre and Post Market Manipulation

19

Trailing Stop Limit & Trailing Stop Market

OTA One Triggers Another Order (Advanced)

OCO One Cancels Other Order (Advanced)

FTA First Triggers Another Order (Advanced)

20

Long Term Investing Strategy

Pros and Cons of Long Term Investing

Pros and Cons of Day Trading

Pros and Cons of Swing Trading

22

Trading Psychology Introduction

24

How I Set Up My Chart on TradingView

Volume Breakdown & Importance

What to Look for in Volume 1

What to Look for in Volume 2

What to Look for in Volume 3

How I Use Moving Averages and Bollinger Bands

How to Identify Support & Resistance

How to Identify Uptrends & Downtrends

Relative Strength Index (RSI)

More Strategies and Analysis

25

Technical Analysis Sample Videos

Blackberry Chart Analysis

Air Canada Chart Analysis

Cryptocurrency Chart Analysis

27

Simple Day Trading Strategy

Breaking this Strategy into Simple Steps

28

Prevent and Prepare for Losses

29

How to Make Money in a Bear Market

How to Spot a Bear Market

30

Red Line Strategy & More Live Video

Charts, Options & Protecting Profits Webinar

Start A Company Right Webinar

31

List of Changes & Updates

32

Accounts & Tax Basics Introduction

Short Selling Introduction

Financial Reports Introduction

Factors That Impact Stock Prices Introduction

Stock Bubbles Introduction

Trading Psychology Introduction

How I Setup My Chart on TradingView

Volume Breakdown & Importance

What to Look for in Volume 1

What to Look for in Volume 2

What to Look for in Volume 3

How to Identify Support & Resistance

How to Identify Uptrends & Downtrends

More Strategies & Analysis
$499.99

$499.99

10 Bagger Stocks - Stock Market Masters Course

This one time fee gets you lifetime access to my comprehensive Stock Market Masters course. Complete the course once, twice or more and do it at your own pace. Have it always on hand for you to refer back to.

Instant Access
Wow! Buy now and get these free bonus courses included with the Stock Market Masters Course so you can sharpen your skills to the max!
**Update! I am currently still working on these additional courses. Instead of "Stock Foundations" I will be releasing a course titled "Options Foundations" which focuses specifically on options trading. You will receive that free with your purchase as soon as it's released (anticipated release is mid December 2022)
Buy now for access to both courses
$499.99

$499.99

10 Bagger Stocks - Stock Market Masters Course

This price also includes Options Trader Pro Course! (You will get access to the Options Trader Pro Course as soon as it's released in late December 2022)

Buy Now
Instructor
Get to know your teacher
Stock & Options Trader
10 Bagger
Hi I'm Stefano, otherwise known as 10 Bagger. I created 10 Bagger Stocks Corporation to help people learn everything they need to know to get started and increase their chances of success in the stock market. I've been investing and trading in the stock market since 2014. In my courses I teach you a strong foundation of knowledge and experience that took me years and hefty dollars to learn. I do my best to guide you in the right direction so that one day you stocks can provide you with an additional income source or even become your primary income source. My ultimate goal is to teach you my successes and my failures so that you don't have to learn the hard way, and so you keep your hard earned money in your pocket instead of losing it in the market because you lack experience. Hope I can help!
By purchasing and/or using 10 Bagger Stocks products or services you agree to this Disclaimer.
10 Bagger Stocks Corporation and all its subsidiaries including @10baggerstocks, @10baggerhomes, @10baggerbusiness, @stefanosomz, 10 Bagger Stocks Community Discord server, 10 Bagger Stocks YouTube, Twitter, Facebook and Tiktok accounts, www.10baggerstocks.com, www.10baggerstocks.ca and 10baggermedia.blogspot.com, produces and releases content for informational and educational purposes only.
All content including courses, posts, stories, comments, messages, articles, blogs, videos, reports, analysis, notifications, emails and any other content by 10 Bagger Stocks Corporation and it's subsidiaries and members is not to be interpreted as legal, tax, investment, financial or any other advice.
Any content we release is not a solicitation, recommendation, endorsement or offer by 10 Bagger Stocks or any third party.
We are not licensed financial advisors, financial professionals or chartered accountants. Therefore we do not provide financial, tax or investment advice. 
You are fully responsible for any investment decisions that you make with your money. Consult a CPA, financial advisor and/or a licensed accountant for professional advice.
While we intend to continue providing our services for many years to come, 10 Bagger Stocks Corporation reserves the right to discontinue our services at any time.
All sales are final.